HDFC Life has launched a new pension plan with name "HDFC Life pension Super Plus" which adheres to the new guidelines of IRDA on pension Plans. Last year in November 2011 IRDA announced new guidelines on pension plans and w.e.f Jan'12 all life insurance companies were asked to withdraw their existing pension products if they are not complying with the new guidelines.
Some of the Highlights of those guidelines are mentioned below:
Assured benefit: At the time of taking the policy, every company has to disclose to the customer a non-zero rate of return on the premiums paid or an absolute amount which he will receive at the vesting age.
Death Benefit: In the event of death, company has to pay back all the premiums paid by the customer along with the guaranteed rate of return as disclosed to the nominee.
Pension benefits: At the time of vesting, the pension has to be compulsorily provided by the same insurer who's offered the pension plan. This is done to reduce the burden on LIC which is currently catering 90% of all pensions and thus risky for a company and its customer.
Surrender/Vesting: At the time of Surrender or vesting the policyholder should be given option to commute 1/3rd value and for the balance he should be offered with compulsorily annuity. Alternatively policyholder can go with annuity for 100% fund value. This annuity should be at the Pension annuity rate as per the latest approval of authority.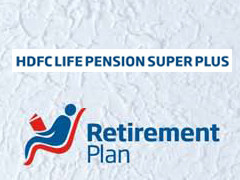 Features of HDFC Life Super plus pension Plan
Actually HDFC has launched 2 new pension plans – one is with regular premium option and other is with a single premium option. The single premium product has been launched with name "HDFC Life single premium pension super". Feature wise these products are almost similar. Following table will take you to the features.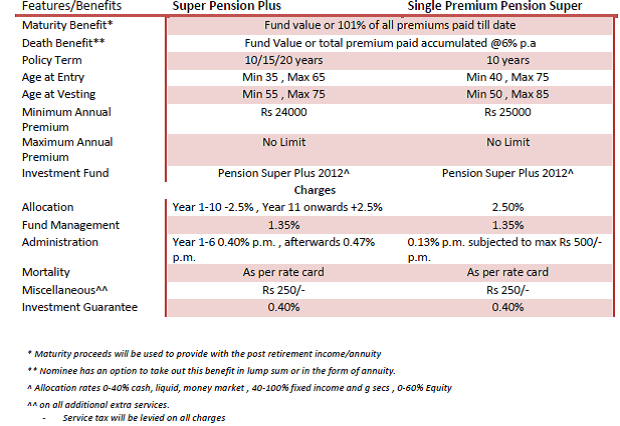 Founder and Chief Financial Planner
at
Good Moneying Financial Solutions
He's MBA ( Finance) gold medalist, a CERTIFIED FINANCIAL PLANNER and SEBI Registered Investment adviser. An ex banker , having a decade long experience in financial services industry he manages clients across the globe. He's an active member of Financial Planners' Guild India ( An association of practicing SEBI registered Investment advisers). He's very passionate in the financial planning space and with a view to spread financial literacy among masses he writes blog articles and also contributes and quoted in various media publications like Money control, Indian express, Business Bhaskar, Dainik Bhaskar, Money mantra magazine etc. He also delivers training on Various personal finance topics to various corporate houses. You may get in touch with him at info@goodmoneying.com
Latest posts by Manikaran Singal (see all)
Recommended for you:
Google+
Pages: 1 2