New pension scheme, National pension scheme, National pension system or whatever name you call it with is all the same. New pension scheme is a defined contribution scheme started by Government of India for the central government employees excepting the Armed forces with effect from 01 January '2004; gradually state governments also adopted this system. Defined contribution means that unlike the old pension system, here the employee and employer (government) will make a defined contribution/deposit in the scheme (which is 10% of basic+DA) and at the time of retirement the pension/annuity can be purchased with the accumulated corpus in this account.
With Effect from 1st may'2009, NPS is available to all citizens of India who can contribute on voluntary basis.
NPS is a good but not so popular product. As it is a government's initiative, the snail pace of its popularity is quite obvious.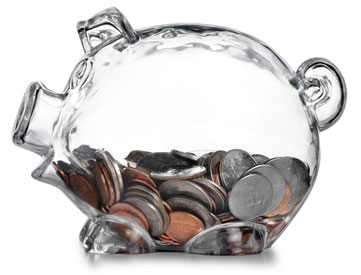 Basic Features of New Pension scheme
NPS is regulated by PFRDA. As SEBI is for Stock markets and Corporates, RBI is for banking, IRDA is for Insurance companies…the same way PFRDA (Pension Funds Regulatory and Development Authority) is for NPS. So don't confuse this with another insurance company's product.
It is Open to All citizens of India in the age bracket of 18 – 60 years.
Minimum contribution required is Rs 6000/- annually, with no limit on number of transactions (there are charges per Transaction).
Minimum Transactions amount required is Rs 500/- .
As this is strictly a pension product, so subscriber compulsorily has to Purchase life annuity with some specified restrictions/flexibility.
It is very lost cost product. With a fund management charge of just 0.0009%, this product is perhaps world's lowest cost pension scheme.
Investment can be made in different Asset classes through 6 fund managers.
Working mechanism of new pension Scheme
It is very simple. It requires regular yearly/monthly/quarterly contribution from the subscriber and on maturity subscriber has to transfer the specified minimum corpus to any IRDA regulated Life insurance company to Purchase Life Annuity and balance can be withdrawn in Lump sum.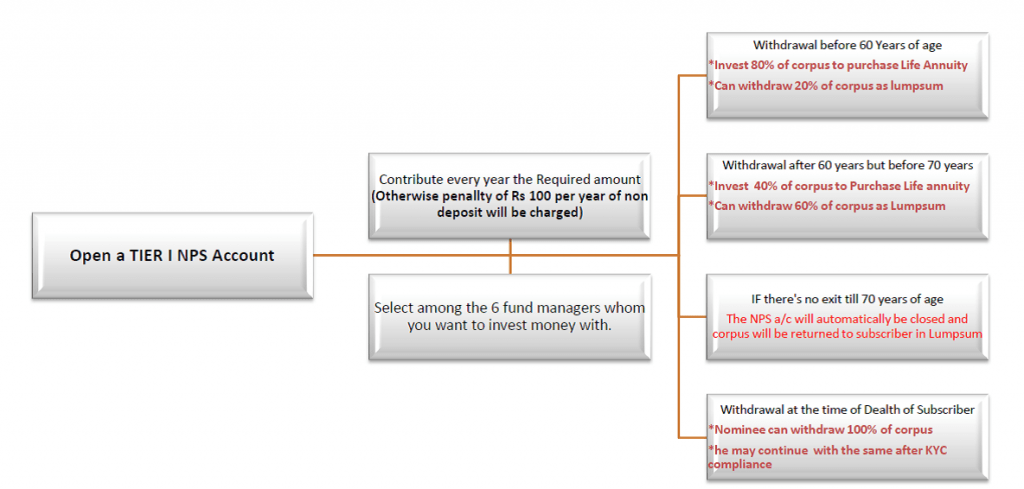 goodmoneying.com
Types of Accounts in New pension Scheme
TIER 1 – This is the First account that subscriber has to opt for. Withdrawal in this account is permitted as per the above chart.
TIER 2 – This account can be opened only after TIER 2 account. Anytime withdrawal is permitted through this account. You may also transfer the funds from TIER 2 a/c to TIER 1 but not the other way round.
Investment style and Asset allocation in New pension scheme
Pension Portfolio Fund Managers
Right now there are 6 fund managers appointed under "All Citizens account" category. Subscriber can chose any of these for his investments. He's also free to switch the funds from one fund manager to other without any extra charge.
ICICI Prudential Pension Fund Management Company Limited
IDFC Pension Fund Management Company Limited
Kotak Mahindra Pension Fund Limited
Reliance Capital Pension Fund Limited
SBI Pension Funds Limited
UTI Retirement Solutions Limited
Please note that the term of these fund managers are going to be over in October'12 and then they will be Re appointed by PFRDA as per the new criteria laid.
Understanding ECG
Every portfolio fund manager has to manage the money in 3 separate accounts having separate asset profile. Here E stands for Equity, C stands for Corporate Bonds and G stands for Government securities.
Asset Allocation
There are 2 choices available for subscribers.
Active choice – Investors are free to allocate there money the way they want among ECG, but not more than 50% in E Asset class.
Auto choice – Here the money will be transferred in a Lifecycle fund which has a predefined portfolio composition as per the age.
Taxation aspects in New Pension scheme
Taxation aspect is very interesting to understand and if used properly it will help in decent reduction in tax payment.
This is covered under Section 80CCD of income tax act, which says
Deduction in respect of contribution made by individual in the previous year to his account under a notified pension scheme, is allowed in computation of his total income –
a)      In the case of employee 10% of his salary in the previous year.
Founder and Chief Financial Planner
at
Good Moneying Financial Solutions
He's MBA ( Finance) gold medalist, a CERTIFIED FINANCIAL PLANNER and SEBI Registered Investment adviser. An ex banker , having a decade long experience in financial services industry he manages clients across the globe. He's an active member of Financial Planners' Guild India ( An association of practicing SEBI registered Investment advisers). He's very passionate in the financial planning space and with a view to spread financial literacy among masses he writes blog articles and also contributes and quoted in various media publications like Money control, Indian express, Business Bhaskar, Dainik Bhaskar, Money mantra magazine etc. He also delivers training on Various personal finance topics to various corporate houses. You may get in touch with him at info@goodmoneying.com
Latest posts by Manikaran Singal (see all)
Recommended for you:
Google+
Pages: 1 2